Joined: Thu Aug 26, 2010 9:14 am
Posts: 303
Location: China
Breath,breath and breath

In the story,《Quantusum》-Chapter 6 《Zenith》Earth mother called herself Zenith,She told Soloman "I am a guide…I am your guide. " But this guide seems disappear in the later of the story…

No, I underestimate her presence......
《Quantusum》-Chapter 22《Dr.Chardin》,A woman——Zenith Chardin,she visited Soloman to discuss Gemini.Her name is the same as Earth Zenith...

Breath…pause
《Quantusum》-Chapter 32 《White Buffalo Woman》
Kohana told Soloman the story of White Buffalo Woman,and he said:"Do you see the correlation? Your Zenith was an albino, Your heart donor was an albino,You have met this same consciousness.Call her whatever name you like.We call her White Buffalo Woman—"

Project Camelot Interview Answer3:It is a balanced Equation:Earth/Nature+Individual Preparation = Sovereign Integral Realization,Soloman is preparing for his journey.....

Our earth--Zenith have helped Soloman with so many embodiments, she is vanessa,donated heart to Soloman, She is White Buffalo Woman interacts with humanity. Soloman have met this same consciousness again and again in the 《Quantusum》...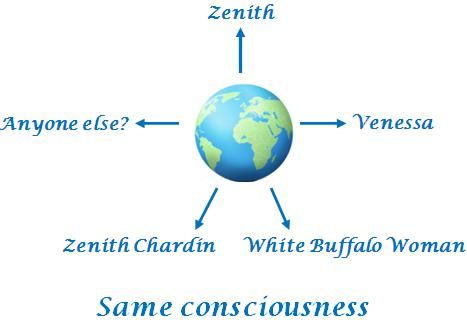 _________________


Nunti-Sunya




If you are not in you breath,then you are in your mind

.