NagyGordy wrote:
Thanks to all replies.
It did occur to me that the most likely reason was to prevent copying the text.
However, there was a slim chance that the images had some other important meaning,
...
These mysterious glyphs were briefly discussed in another thread back in July of this year:
viewtopic.php?p=83701#p83701
I am inclined to imagine that the symbols do have meaning beyond copy protection. We just haven't found the "rosetta stone" for them yet. (Unless the book page on which they appear offers a clue....) All part of the unfolding mythos, I suppose.
J.R.R. Tolkein created whole languages and scripts for his worlds: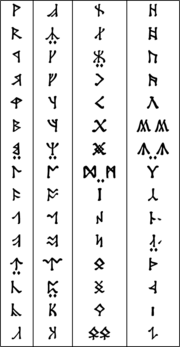 Cirth
The invention of writing is an aspect of human culture (along with language, art, philosophy, etc.) that some have suggested was seeded by culture-bearers from another dimension...or by our own future selves.

_________________


In all that I do, may the Heart of the One hold sway over the minds of the many.