more info being released.... including the exact location of the "weapon" ... the inter net is such a wonderful tool for bringing talented people together... this was done by a member of glp's forum...
if you take, this picture .... and tweek it some (enlarge it)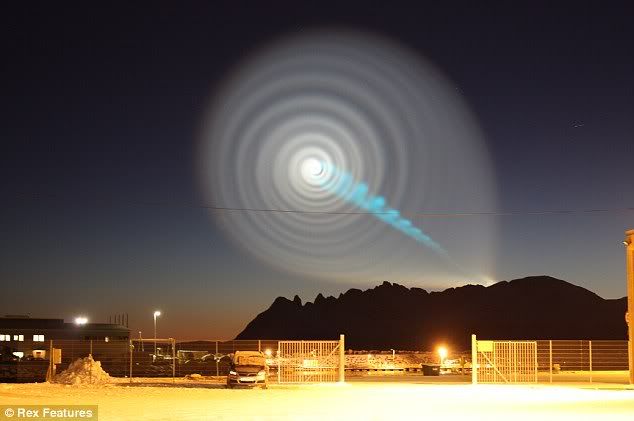 and then overlay this picture of a known location on top of it -you get a match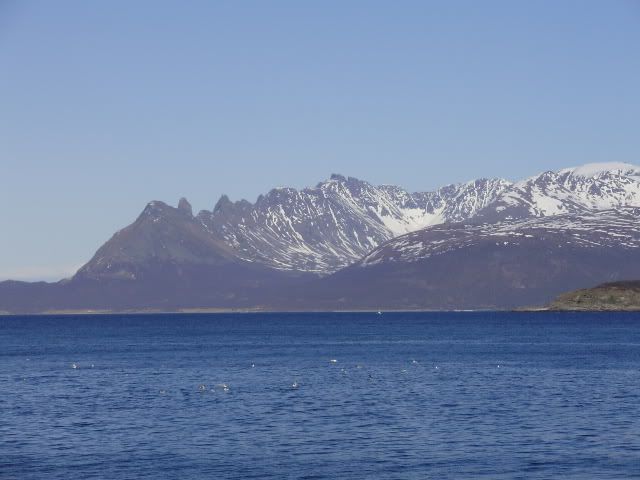 that looks like this: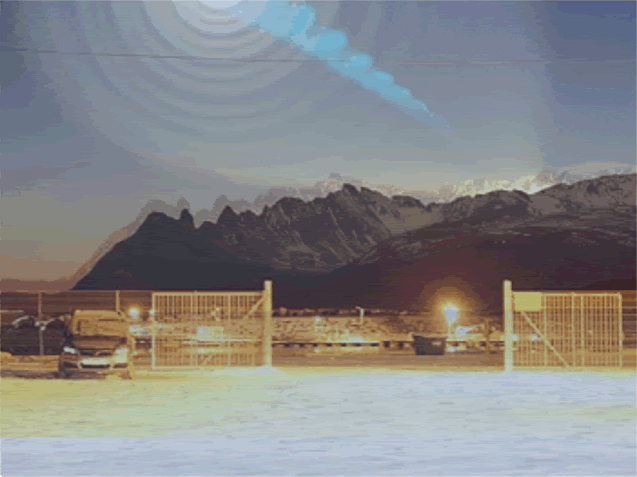 and turns out to be here, on the google map:
The small Norwegian port town of "Skervoy" North of Tomso. The mountain which is viewable in the pic are "The Sawback" Mountains east of Skervoy.
now here is where the plot thickens... the Russians say that they lauched a missile that went haywired and that was what every one saw in Norway... please note on the map above the picture was taken in an East ward direction (towards Greenland) and the map below shows us where the Russians said they launched the missile from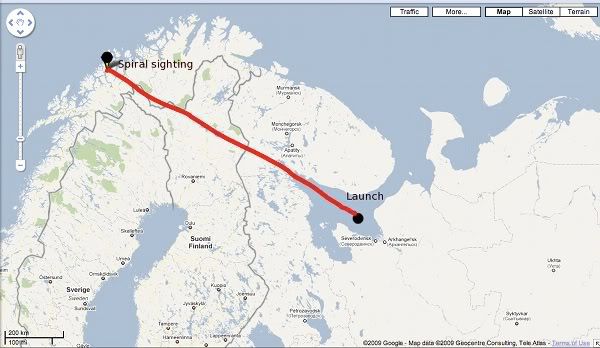 which makes the russian story false, because unless they were firing over Norway and Sweden. (not likely they have permission to do that) .. and what was seen was the tail end of the missile's flight ... then it just couldn't be ... and here are the official co ordinates that some one else put on line...
ZCZC FA79
031230 UTC DEC 09
COASTAL WARNING ARKHANGELSK 94
SOUTHERN PART WHITE SEA
1.ROCKET LAUNCHING 2300 07 DEC TO 0600 08 DEC
09 DC 0200 TO 0900 10 DEC 0100 TO 0900
NAVIGATION PROHIBITED IN AREA
65-12.6N 036-37.0E 65-37.2N 036-26.0E
66-12.3N 037-19.0E 66-04.0N 037-47.0E
66-03.0N 038-38.0E 66-06.5N 038-55.0E
65-11.0N 037-28.0E 65-12.1N 036-49.5E
THEN COASTAL LINE 65-12.2N 036-47.6E
2. CANCEL THIS MESSAGE 101000 DEC=
and here is a cute little reaction ... that sums it all up
Quote:
Well then you tell me how if this was a failed balistic how the [Censored] Russia got it east of this little town off the Norwegian coast and NATO isn't going berserk over it then.

Got any clues as to just how a monumental a fuckup this would be on Russia's part if they had some wayward nuke able sub launched missile fly over 3 NATO countries with no warning? and just why IS everyone NOT going berserk?

There is something very wrong here, Russia wouldn't do it intentionally and we wouldn't stand for it even if this was a mistake. Why didn't they kill the thing immediately? How could it to where to where it seems to have ended up? WTF is going on? Is everyone just being quiet because the Russians epic failed and WE shot it down so now it's a quiet wash on both sides?...those are just a few of the questions...

I don't think you big whoop people have any clue what we are dealing with here, Sub Launched ICMBs with 5000 mile ranges do not just pop out of thin air, and yet?...everyone just seems to be pretending that it did. The Russians STILL deny their missile was responsible for this. The implications are deeper than I think most people are aware of.

There is SOMETHING that friggin REEKS on this...and I don't often say that...I usually am more inclined to eliminate specualtion with facts...and on this?....I am at a loss to....it make no sense at all...the event, the zero reaction all of it.
go here:
viewtopic.php?f=21&t=1570&p=67447#p67447
for project Camelot's perspective of this event ... and check out all the you-tube vids now available using Norway + spiral as key words ... curious-er and curious-er
another perspective suggest a Norwegian HAARP type device...
European Incoherent Scatter Scientific Association
EISCAT
Ramfjordmoen, Near Tromsø, Norway
+69° 35' 10.94", +19° 13' 20.89"
[link to
www.nolink4_you.com
]
about 1/4 of the distance down the page
Quote:
The EISCAT Scientific Association is an international research organisation operating three incoherent scatter radar systems, at 931 MHz, 224 MHz and 500 MHz, in Northern Scandinavia. It is funded and operated by the research councils of Norway, Sweden, Finland, Japan, France, the United Kingdom and Germany (collectively, the EISCAT Associates).
EISCAT (European Incoherent Scattter) studies the interaction between the Sun and the Earth as revealed by disturbances in the magnetosphere and the ionised parts of the atmosphere (these interactions also give rise to the spectacular aurora, or Northern Lights). The radars are operated in both Common and Special Programme modes, depending on the particular research objective, and Special Programme time is accounted and distributed between the Associates according to rules which are published from time to time.
One EISCAT transmitter site is located close to the city of Tromsø, in Norway, and additional receiver stations are located in Sodankylä, Finland, and Kiruna, Sweden. See an animation that shows the basic operation. The EISCAT Headquarters are also located in Kiruna. 1996 the EISCAT Scientific Association constructed a second incoherent scatter radar facility, the EISCAT Svalbard Radar, near Longyearbyen on the island of Spitsbergen, far to the North of the Norwegian mainland.
The Incoherent Scatter Radar technique requires sophisticated technology and EISCAT engineers are constantly involved in upgrading the systems.
In addition to the incoherent scatter radars, EISCAT also operates an Ionospheric Heater facility at Ramfjordmoen (including a Dynasonde) to support various active plasma physics experiments in the high latitude ionosphere.
SOURCE ARTICLE
www.eiscat.se:8080..
.